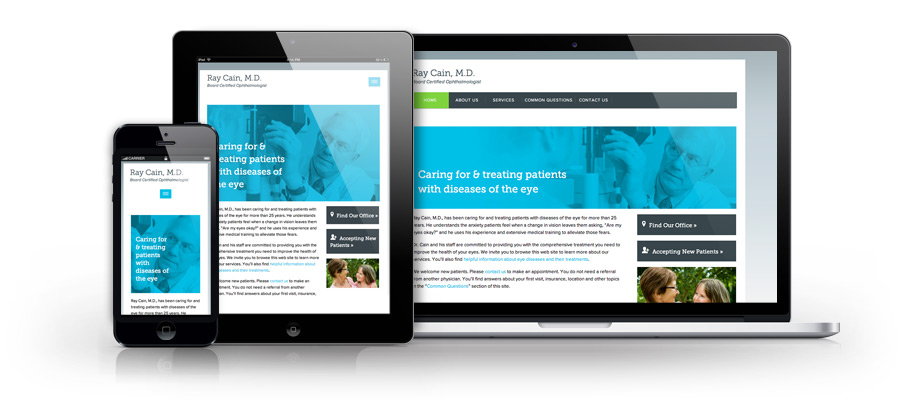 What is the difference between an ophthalmologist and an optometrist? Not sure? Check out the latest web site the McComm Group built for the very talented and compassionate healer, Ray Cain, M.D., P.C. to find out. The difference is more important than you may know.
Dr. Cain has lived and practiced in Decatur since 1987. His continuing commitment to caring extends beyond his patients. He has been actively involved in leadership roles in the community for more than 25 years. He has served as board chairman for Decatur Medical Associates and as a board member of Habitat for Humanity of Morgan County, Save-a-life Pregnancy Center, Decatur Heritage Christian Academy, Young Business Leaders of Decatur, and Morgan County Medical Society.
Ray Cain, M.D., is unique in that he provides comprehensive eye care and treats diseases of the eye. He is a cornea specialist and works with patients suffering from eye diseases, including cataracts, complications from diabetes, glaucoma, macular degeneration, and dry eye. He performs small-incision cataract surgery. In addition, he provides SLT cool laser treatment for glaucoma. Dr. Cain is board certified by the American Academy of Ophthalmology. He is a member of the American Academy of Ophthalmology and the Morgan County Medical Society.
Thank you, Ray, for trusting McWhorter Communications to tell your story. We feel like we've just helped an entire community see more clearly.
See the site on any mobile device or your desktop browser at http://drcaineyemd.com/