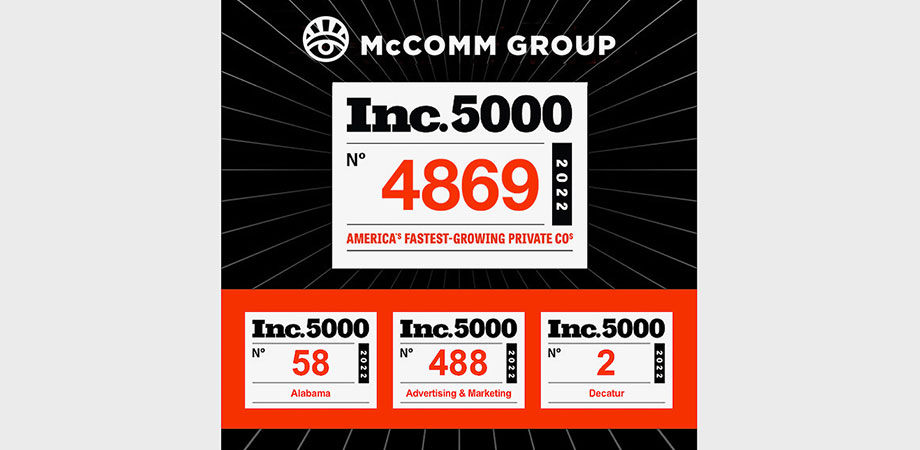 Decatur, AL – McComm Group, Inc. is proud to announce it was recognized as one of the 500 fastest growing advertising and marketing firms in the U.S. in 2022. With an 84% growth rate, the agency is featured at 4869 on the annual Inc. 5000 list, the most prestigious ranking of the fastest growing private companies in America. The McComm Group ranked 58th fastest growing in Alabama, 488th in advertising and marketing, and 2nd fastest growing private company in Decatur.
"Our strong growth over the past three years, including the pandemic years, is due in large part to our core philosophy that we succeed when our clients succeed," noted President and Creative Director Joel McWhorter.
As business-to-business marketing experts, the McComm Group played a significant role in helping our manufacturing clients move through unchartered territories during those challenging years. With more than three decades of experience, we developed and implemented programs to help new and established clients effectively communicate to internal and external stakeholders, to retain and recruit employees, and to launch new products throughout the pandemic and beyond.
"We are honored to be recognized by Inc. 5000 as one of the fastest growing companies in America. The trust, knowledge base, and understanding of our clients' businesses have allowed us to help them grow in good times and in bad economic times. This is one of the reasons that McComm Group's team has seen substantial growth in the last several years. Throughout our history, we have intentionally evolved our strengths and skills to meet the changing needs of our clients and the marketing landscape. I am very proud of our team for embracing the 'We can do that!' attitude to deliver excellence in marketing for our clients and to help the McComm Group grow our business," stated McWhorter.