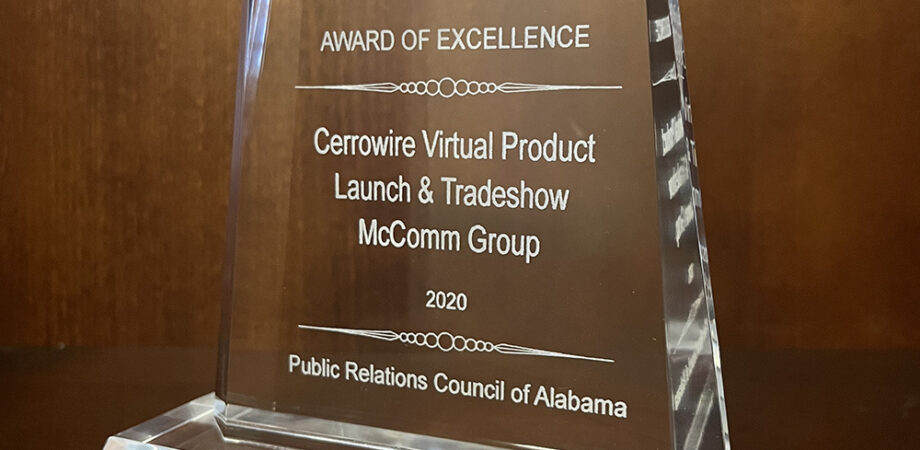 The McComm Team was proud to bring home this Public Relations Council of Alabama (PRCA) Award of Excellence for our friends at Cerrowire.
With COVID-19 limiting face-to-face meetings, our firm helped Cerrowire to successfully launch two new products by virtual ZOOM tradeshows to well over 200 salespeople across the country.
Product presenters included a senior product manager, and the director of strategic accounts. In addition to set design, shooting, and technical logistics, our firm created a rewards-based incentives program with milestones based on products sold.
Support presentation and leave-behind materials were created and delivered to the Cerrowire Sales Representative attendees.
The format allowed for an encouraging, no holds barred interaction with the sales team. Beyond seeing live demonstrations of the innovative offerings, they were able to ask direct questions about Cerrowire's ability to fulfill orders of the new products during the COVID-19 economy, the manufacturer's guarantees and support for the products, commission rates, and incentive rewards for their involvement. Cerrowire's open and direct answers were well received during the uncertain times to everyone's satisfaction and relief. Many reps sent emails and texts to their Cerrowire managers offering thanks for making the demonstrations possible.
As the Cerrowire Product and Business Manager put it, "All of you have moved from strength to strength! Well done!"